As a Street Smart Investor, whether Platinum or Beginner, you should plan on overcoming obstacles, especially when you're dealing in property acquisitions where chain of title issues or other legal snafus might come back to bite you.
As is discussed in the previous End Game Strategies Workshop DVD Set, the issues involving the use of Mortgage Electronic Registration Systems, Inc. and its parent, MERSCORP Holdings, Inc., are pervasive to the point that many bank attorneys will go to great lengths to assist in the manufacture of documents that will give their client "standing". Standing is one of your strongest defenses yet is the least understood.
What does that mean for the investor? The answer has evolved into an extremely strong defense and you should know it now! There are land mines and pitfalls which have been discovered since the last workshop. It's now time to update your knowledge, your resources and re‑inspire you for this great income opportunity.
Florida attorney Richard A. Kalinoski, Jr. formulated a new attack strategy, which Clouded Titles author Dave Krieger and Mr. Kalinoski and his "assistant" (formerly an executive with Bank of America) plan to cover for you in the new "Beyond End Game Strategies" Workshop.
Many of you already know about the practice of "robo-signing". It's become commonplace in the land records in every county in America, even today… even after 2012 when all mortgage loan servicers agreed to stop making up documents out of thin air in an attempt to steal homes from borrowers… your potential clients, but they have not stopped!
Krieger and Kalinoski discovered that not every strategy described in previous workshops brings a "finite end" to the pattern and practice of the chicanery the banks and their law firms continue to play upon the courts, wherein the judges could become complicit with the frauds perpetrated upon them by the banks' lawyers!
Using information contained in The Quiet Title War Manual, Kalinoski came up with another "End Game Strategy" that not only makes sense… it takes "the heat" off of your attorney and puts it squarely on Mr. Kalinoski's shoulders!
On July 19 & 20, 2018 (following the 3-day Platinum Mastermind Retreat), Clouded Titles author Dave Krieger and attorney Richard A. Kalinoski, Jr. Esq. will present the latest "End Game" strategy that can be used to:
ü Bolster your legal arsenal with a new weapon the other side won't see coming!
ü Throw new ammunition into your discovery that will have the other side cringing and begging for more time to answer!
ü Increase your rental income using new strategies as a case delay!
ü Hold the other side accountable for relying on phony documents!
ü Set the other side's lawyers up for formal State Bar complaints… in ALL 50 STATES!
ü Fortify your attorney with an expert witness who will testify to more than just false documents!
The workshop encompasses two full days of intense, information-packed, audio-visual displays to sharpen your mind and your legal skills. Learn to utilize new tools in your legal arsenal to save time, money and legal expenses.
All attendees will receive an "END GAME STRATEGY" WORKBOOK SUPPLEMENT to add to your arsenal of workable solutions!
HERE'S SOME OF WHAT YOU'LL LEARN IN THIS
TWO-DAY INFORMATION-PACKED WORKSHOP!
DAY ONE
· Understanding what it means to hold "dirty paper"
· Property Analysis and Researching Chain of Title
· Document Manufacturing: The Weak Link in the Chain
· Cancellation & Expungement of Documents: Case Study
· Beyond End Game Strategies: The Secret Weapon - Part I
· Q & A - Strategy Session*
DAY TWO
· Updates to the use of Declaratory Relief & Civil Conspiracy Actions
· The use of discovery to obtain evidence to use the latest strategy
· Motions To Vacate once the damage has been done
· Educating your existing attorney to "Play the New Game"
· Beyond End Game Strategies: The Secret Weapon - Part II
· Q & A - Strategy Session*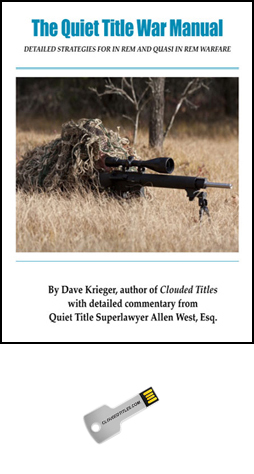 Of course, if you haven't purchased the End Game Strategies Workshop DVD Set, you can obtain that now or we'll have kits available at this workshop!
The updated End Game Strategies Workbook Version 2.0 was designed specifically for Lou Brown's "Street Smart®" investors!
But wait! We'll make this even more valuable for you!
Even if you have previously attended or purchased the End Game Strategies DVD Set all attendees will receive an updated 32GB USB "Key" flash drive, containing over 10 years worth of useful research, covering all fields of real property law, including case citations and appellate decisions, reports, research, pleadings, all organized into state specific archives!
There are over 22,000 files on this key flash drive!
With 32 gigabytes, you can store all of your case files on it and have all of your information right there at your fingertips, with the help of your laptop!
All this… plus two full days of specific instruction on beating the banks at their own game!
PLUS …
BRING YOUR CASE FILES FOR ATTORNEY REVIEW… FREE!
* Mr. Kalinoski and his "sidekick" will be meeting privately WITH ANY ATTENDEE who wants to during the 2-day event to go over their "dirty" paperwork and case files FREE (for the first 30 minutes)!
You will also learn HOW the mortgage loan servicers are screwing over American families and HOW they pocket ALL the money after they've stolen their home and sold it!
This two-day workshop is being held on Thursday & Friday, July 19th & 20th, 2018 in Atlanta (Tucker), Georgia, and features Clouded Titles author Dave Krieger and Quiet Title attorney Rich Kalinoski (who has beaten REMICs in court) and his "assistant" (a former executive with Bank of America)!
This is the one workshop you DO NOT want to miss!