We have a new round of openings - Plug your business into ours...
I'm looking for a handful of highly qualified, highly motivated, highly determined entrepreneurs and business people seeking to get their butts kicked to the next level...
...and become part of my next Fast Track Mentorship™.
The first group is already SOLD OUT!
(Current members have doubled or even tripled their business by receiving this one-on-one Mentorship)
If you want to be part of the next brilliant-minded, success-driven Winners, then...
Take your first action step right now and fill out this quick survey of just 12 easy questions and see if you are a fit to join my elite group of members.
Then sit back and wait for someone on my team to contact you but respond back quickly before your spot gets taken because I only allow a few in at a time.
Complete your application right now:
Best Regards,

Lou Brown
P.S. You can't soar like an eagle if you hang out with turkeys!
P.P.S. Want more info? See below...

Why use a mentor?
There are two ways to learn: Mistakes or Mentors
When you invite correction you remove the pain of it.

Mentors are shortcuts to success.

Mentorship is learning through the pain of another person.
"I'm glad you failed so I don't have to. Now tell me how to do it right."
Three things that will help you that a true mentor provides:
Provision, Promotion and Protection
Your mentor provides the path to your success and direct access to the resources of the Street Smart® system.

Your mentor is tasked through their training, experience and success to elevate your business to the next level.

Your mentor supports you in protecting your business, as they have themselves using trusts and entities*
Fast Track Mentorship™
I'm excited to announce our next level of support designed to get you up, running and with money in your pocket faster than ever before.
We currently have a coaching program called Platinum Mastermind™. This is coaching by me, Lou Brown and we've seen some pretty awesome results from this group.
Some of these members have been with me for many years and have built quite impressive businesses. Now they are ready to support you with a much more intensive level of mentoring than we have ever offered in the past.
If you are serious about getting your business off the ground and dramatically growing it in a short period of time then this program is right for you.
What you get:
Weekly Live One-on-One Mentoring Call with an authentic Street Smart® licensee who has grown their business dramatically using the Street Smart® System.

Monthly Live Group Coaching Call

Unlimited text, email and/or fax Q & A

Unlimited text, email and/or fax Deal Structuring assistance

Blueprint Plan to leverage your business quickly to the next level

Weekly Progress Reports

Special VIP seating at live Street Smart® training events

Inclusion into VIP sessions at live events

Special recognition as Fast Track Mentorship™ member

Access to grow into the Street Smart® Platinum Mastermind™ Network, One-On-One Coaching with Lou and Mastermind Roundtable™ live event sessions

Spouse or Family Member or 100% Business Partner included

Mentor supported by Lou – Your Mentor is required to remain in the Platinum Mastermind™ Group and has direct access to Lou for any questions they are unsure of… including advanced needs and questions

Program lasts for 24 weeks (during a 6 month period) at which time you can choose to renew at the Fast Track Mentorship™ level or to move up to the Platinum Mastermind™ level if you are ready
Application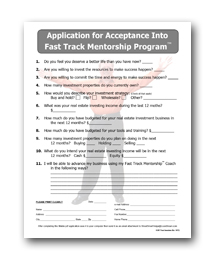 In order to consider you for membership in the Street Smart® Fast Track Mentorship™ Program I need to learn more about where you are with your current business, either getting started or full blown operator, which is why I've prepared critical questions on the following page that will determine if we are a good fit to work together personally and be part of this elite group of members.
Be sure to be as detailed as you can when completing ALL the questions. This application shouldn't take you more than 4 minutes... possibly less. Slots are being filled fast so once you complete your application look out for an email to schedule a time to go over the information you submitted.
Best,
Certified Affordable Housing Provider
Mission: Transform Lives through Affordable Housing to Empower Families and Individuals to Enjoy the American Dream of Home Ownership.
* Your mentor is not an attorney, CPA or financial planner. You are welcome to add these as team members when the time is right.
More Info? Phone: 800-578-8580
Copyright © 2015- Trust Associates - All Rights Reserved